Yangshuo
It's a lovely Autumn day here in Wuhan. The weather has finally cooled, meaning you can actually walk from A to B without breaking a sweat however short the distance is. Now that the temperature is a much more acceptable 15-20 degrees, it's even possible to wear a jacket – the only downside is that it's coming ever closer to Winter, and that means sub-zero temperatures with only one air-conditioner in my apartment.
So, I decided it's finally time to get on with those posts I mentioned in the my blog is still alive message I wrote a little while ago. Through the next few posts I plan is to write about our holiday to Yangshuo; my new favourite hot-spot TKLK Bar - and my lovely friend Tobi's visit; Beijing, and the teaching awards that I received this Summer – and I'm sure there will be an extra post of random photosnaps from June-September that don't really fit into the above categories! 
And, of course, Halloween, my favourite time of the year, but also one of the busiest.
So, let's get started with Yangshuo, the small tourist town in Guangxi that was the first place I ever visited in China when I was a volunteer teacher, where me and Steven took a three-night break to in June. However, now the problem is, where to start? Yangshuo will always be a very special place to me, as it was the first city I lived in when I moved to China as a volunteer teacher at Yangshuo Middle School back in 2010. The plan was to only stay in China for three months, before going to Brazil. Brazil didn't happen, and two years later, I'm still here with no foreseeable plans to leave. 
Which is quite surprising given my initial reaction. I still remember very vividly the long flight east, and driving through the paddy fields of Guangxi to reach Yangshuo, where my first experiences were not so great. In the first few weeks of living in China my camera was stolen; I was taken on a welcome bike ride, the bike of which had no brakes and the the inevitable crash left me with a three inch war scar on my leg that remains to this day; I managed to contract conjunctivitis and, of course, food poisoning. To be honest, the initial trip was pretty miserable, despite making good friends at the school with whom I still have regular contact with, such as Vanessa, Tobi and Charlotte. However, it was only when I befriended some wonderful Chinese people named A Gan, Xiao Tang, Guang Guang, A Fu and Yang Yang, that I began to have a good time. That good time turned into a fantastic time, and the friends I made became best friends, that I realised how wonderful China is. The four months I spent in Yangshuo are now a blur of optimism and youth, coupled with beer and endless nights out in bars.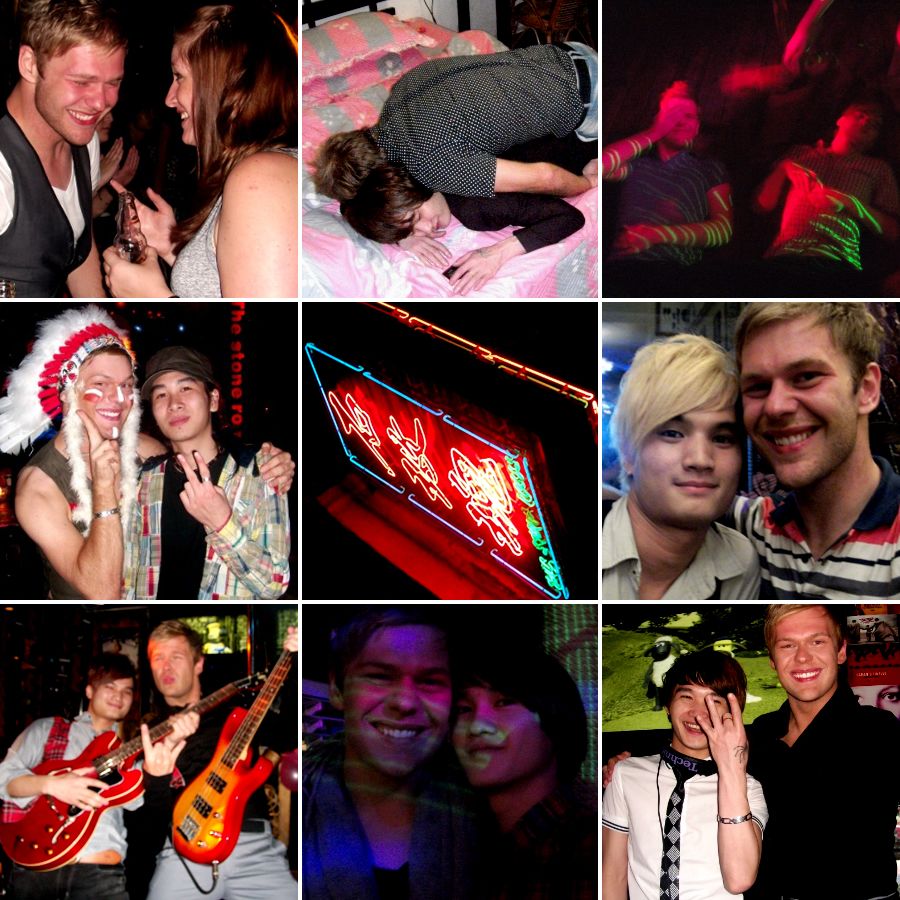 Yangshuo, a small town based around the long, tourist-orientated West Street, is very easy to become quickly familiar with, and because of that, familiar with everyone that lives there. It was easy to know everybody and walking through the town would involve much waving and saying hello. Of course, my time there had to come to an end, and I had to return back to England. I was back in China within a month, and then I found my job and the rest is history. 
Some people may ask, why do you live in Wuhan if Yangshuo is so great? There are various reasons behind this - living in Yangshuo is expensive, as the area is a tourist destination with a large percentage of westerners visiting for rock-climbing and the karst scenery. That said, the wages are low. Most of the schools in Yangshuo are aimed at passing teachers who want temporary contracts to fund the rest of their travels, whereas I needed a bit more stability. Furthermore, my Yangshuo lifestyle is not good for long-term everyday life. For four months I partied, partied and partied, which was of course fantastic, but partying and spending the evening in bars every night doesn't really make a good teacher. And my friends in Yangshuo do not take no for an answer when it comes to going for a night out. Of course, I miss my dear friends, but some of them too have taken other opportunities and left the town now.
I have returned to Yangshuo many times since I have been living in Wuhan, and, even though faces slowly disappear to different cities and new ones replace them, the core group mostly remains, which makes every trip very special. The trip in June, however, was very special indeed, as I introduced Steven to all of my dear friends there.
Because we are cheap flying is a little inconvenient, we took the train there, which we were very unlucky with as we could only take seats. The primary way that people travel in China is via bicycle or e-bike for short journeys, and train for long-distances. Long distance trains have three classes - soft beds (in private compartments of four), hard beds (in open compartments of six) and hard seats; which is truly painful for the thirteen hour trip to Guilin; even more painful when the carriage is full of screaming toddlers.
After we finally arrived, we took the from Guilin city to Yangshuo and settled into the hotel around six in the evening - a small, cheap and cheerful establishment off West Street, where we spent the rest of the day to rest. Later that night, I took Steven to the bars and introduced him to A Gan and Yang Yang, where they proved to be their normal, warm, hospitable selves.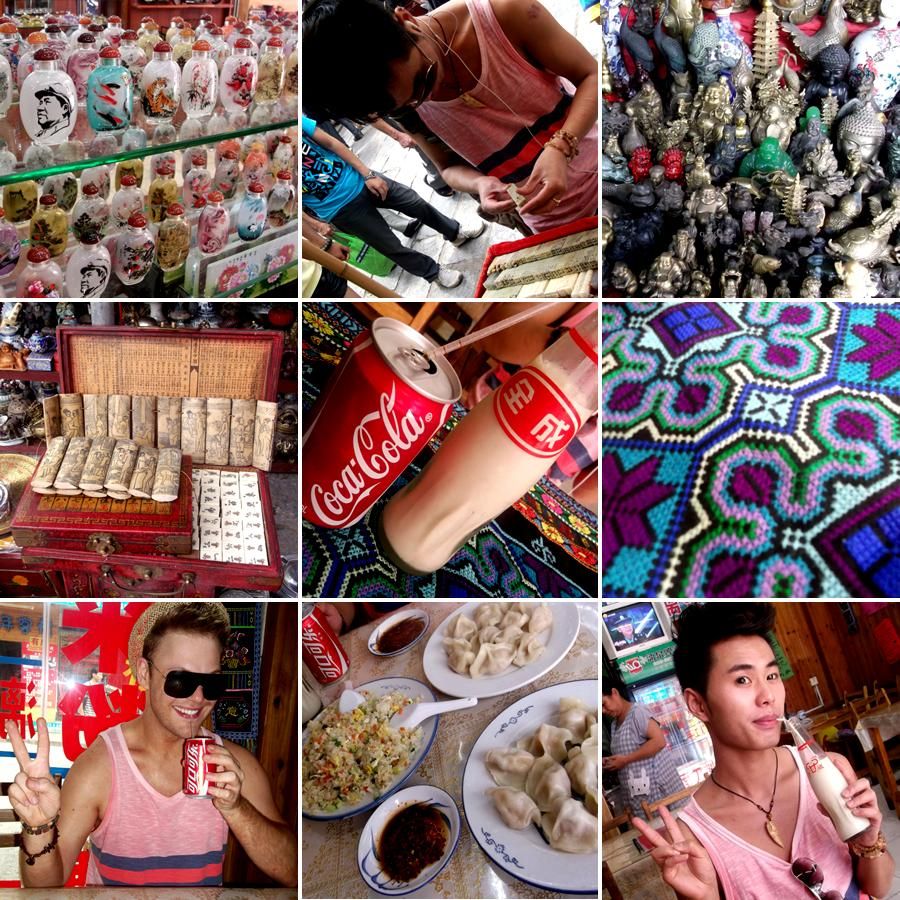 The following day was the real start of the holiday, so I took Steven for a wander down West Street to look at the small stores that line it. We picked up some souvenirs for ourselves and friends, and, after Steven made me take his photo stood in front of absolutely everything in Yangshuo, took a Li river cruise which shows you the amazing karst scenery of Guangxi.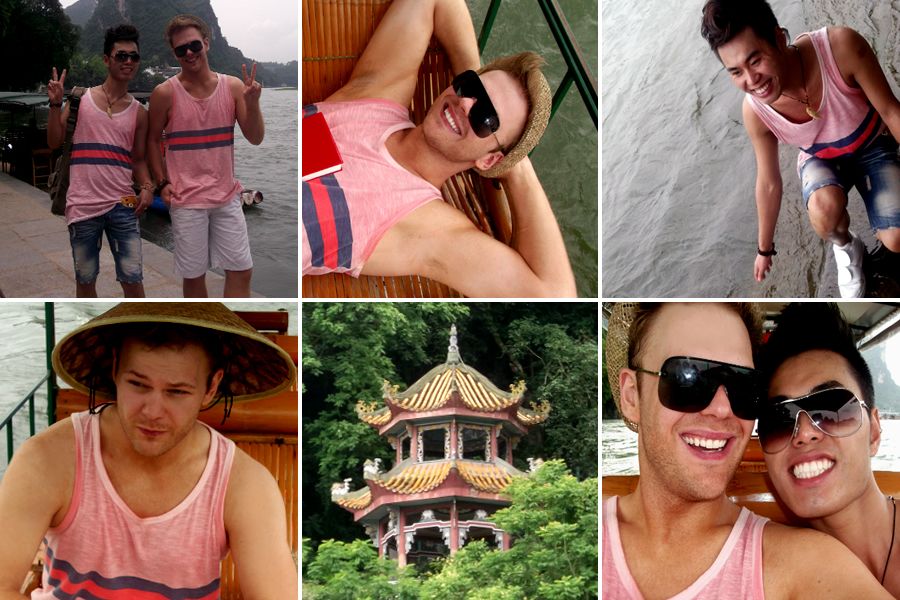 After that, we headed to the marvellous Dumpling Dynasty for dinner - a little restaurant that sells the best dumplings in China - where we inspected our purchases and planned our evening out; which ended up being an inevitably beer-filled festival across our friends bars. I suddenly felt very old this evening - when I met these friends, they were merely DJs and waiters in their respective bars; now they are all bar owners.
Perhaps I'm in the wrong business.
Day two of three was where our good luck ran out, as there was a torrential rainstorm the entire day. This meant we had to cancel any plans for seeing the sights, as most of the attractions in Yangshuo are outdoors. 

Instead, we took our umbrellas and pottered about the northern part of the town, eventually having dinner at A Gan's house and spending a few hours with him in his bar, The Stone Rose, where much of my initial four months in China - and subsequent visits back to Yangshuo - were and are spent, as you can see in the following photos from the past two years.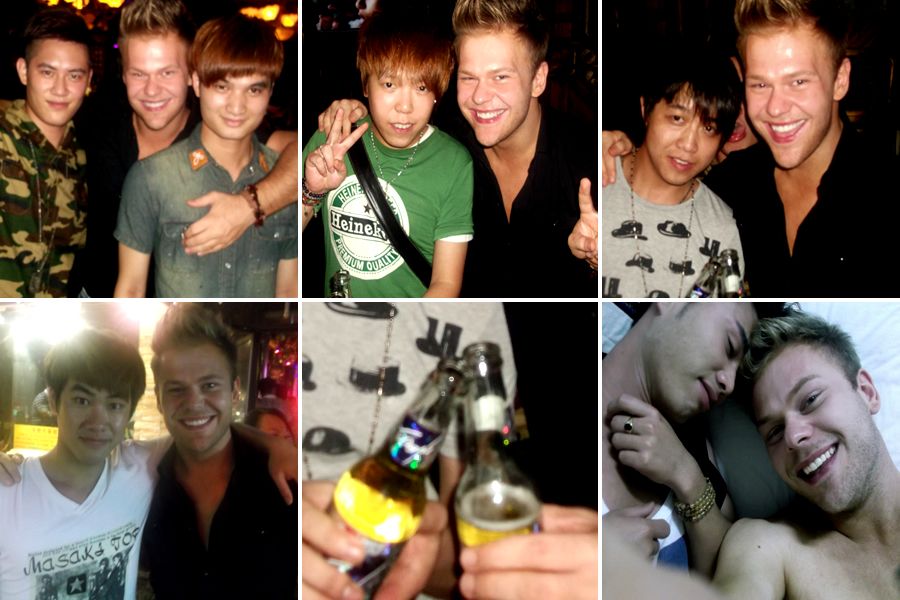 Day three, thankfully, greeted us with warm sunny weather, so we hired bikes - and our own personal guide - for 60RMB (about six pounds) and rode out of the city to a nearby ancient Buddhist temple, situated in the mountains and with stunning views and architecture that took us a majority of the day to explore.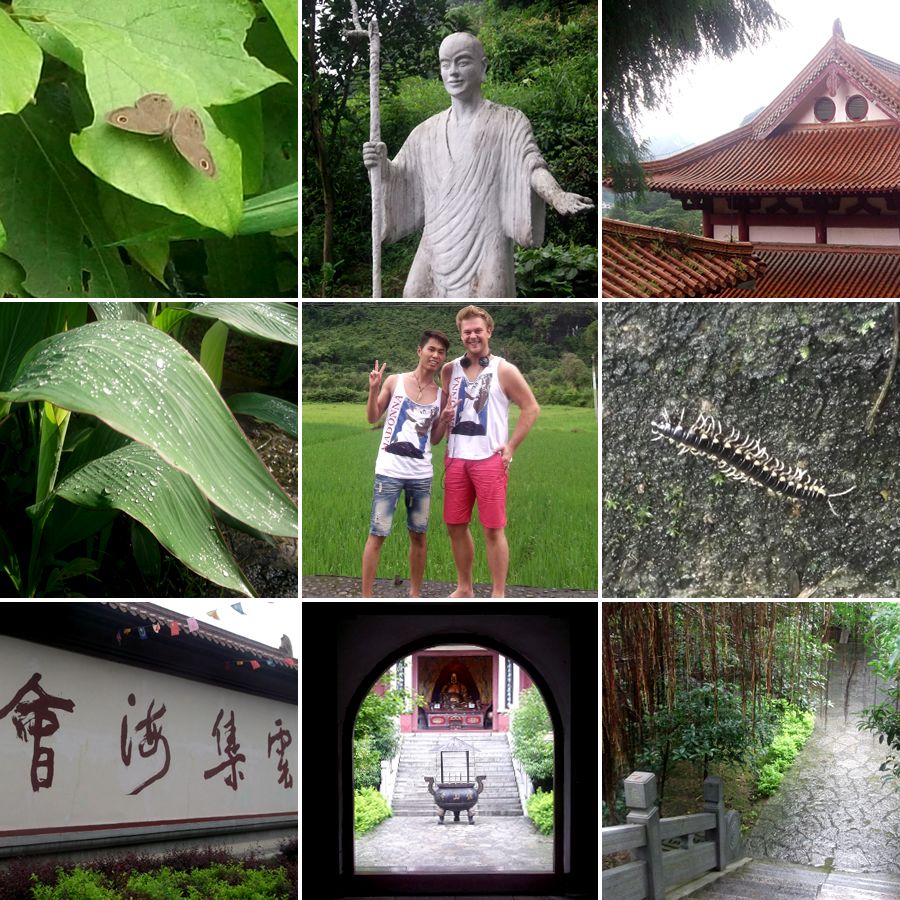 The evening, our last night, was very special indeed, as A Gan contacted lots of old faces who joined us for dinner and drinks. My dear friend, Xiao Tang, made a four hour trip from Nanning to see me, who I was most grateful to, as, aside from an unfortunately absent Guang Guang, meant all of my closest Chinese friends were all together like old times. Around three o'clock, after dinner, dancing and countless drinks, we ended the evening in Yang Yang's new luxury KTV bar, situated off West Street and the end of a dirty alleyway that almost reminded me of Narnia. Hugging and a few tears inevitably followed, and it was, of course, an emotional ending to a wonderful short break.

And that ended our short-but-sweet jaunt to Yangshuo. Like me, Steven fell in love with the scenery and people there, who were, as always, accommodating and warm even to new faces. I am sure we will return there soon, and I would recommend anyone travelling to China to try Yangshuo out as a taster of China. It's eastern enough to be different from home, but the influx of tourism means creature comforts from home aren't impossible to find. 
Aside from the natural beauty, the main attraction of Yangshuo is its small, close-knit population. I can understand why China would be a love-or-hate place, as the culture is so different to that of the west. That is why today when I meet new foreigners, I always try to be as helpful as I can, just as my Yangshuo friends were for me when I arrived in this vast, exciting country.